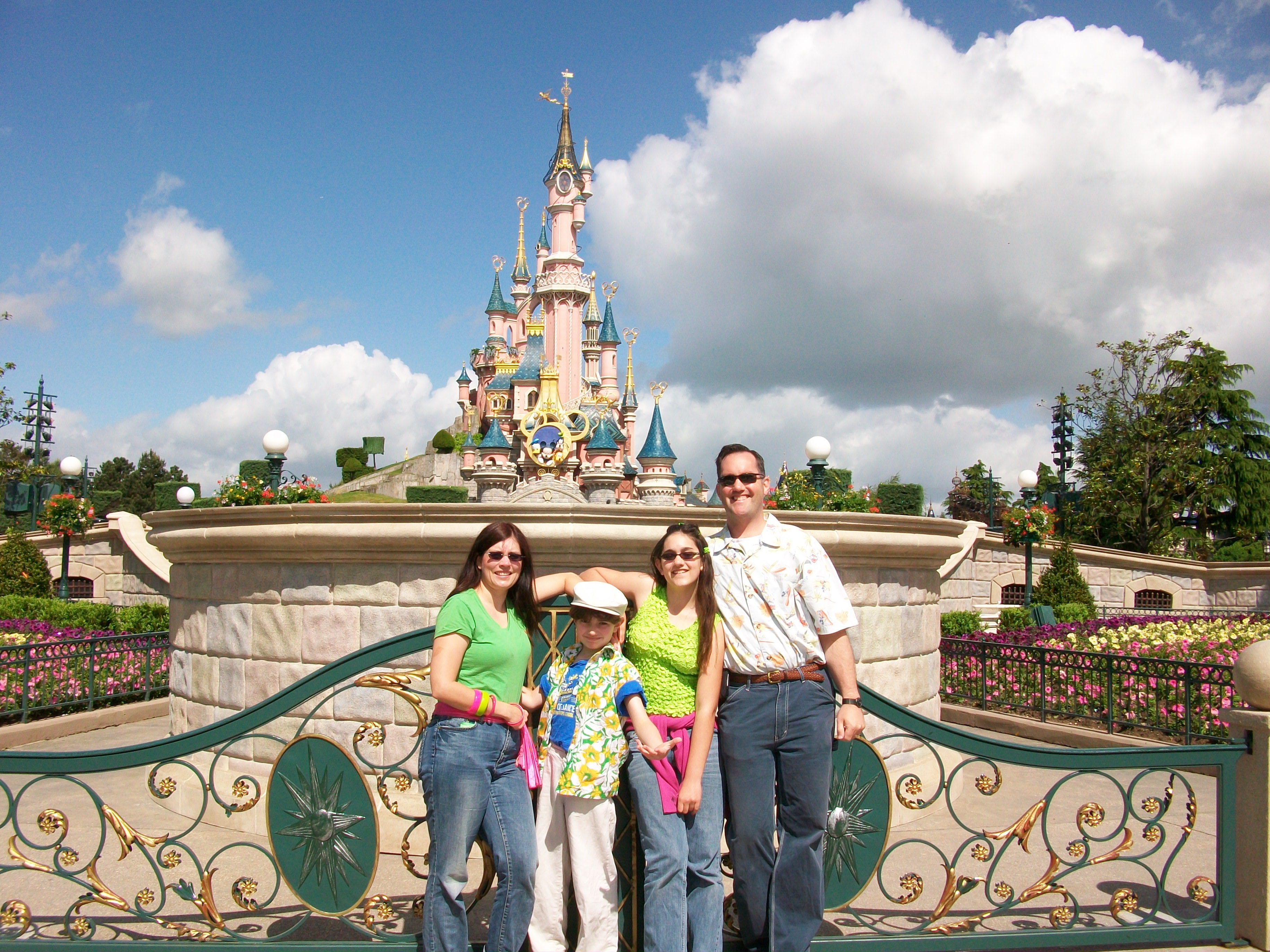 Marika's comment, which she kept repeating, on our first day at DLP was "How can anyting be so much like Disney and so much NOT like Disney all at the same time?!" We all agreed. To a large extent it did feel like we were "at Disney" but then again some things felt really off. Most notably the lack of detail which Disney is so known for. So, we were unsure what we were in for as we headed into Disneyland Park. Driving towards the parks (the entrances of the two parks are seperated by only a plaza--much like the California parks) you have an awesome view straight ahead of you on the road of the Disneyland Hotel. To enter Disneyland Park you walk under the hotel and into a plaza area similar to the space between the monorail and ferry landings and the train station at WDW. The train station acts as a "curtain" blocking all views of the attractions to come. We walked through the station into the park and said nearly in unison "Now THIS is Disney." The detail and beauty was instantly apparent. In fact, we learned as we explored that the attention to detail and beauty of this park is vast and unequaled at any of the other parks we have been to in the U.S. It would be very easy to get lost in enjoying the beauty and not even ride a single ride here.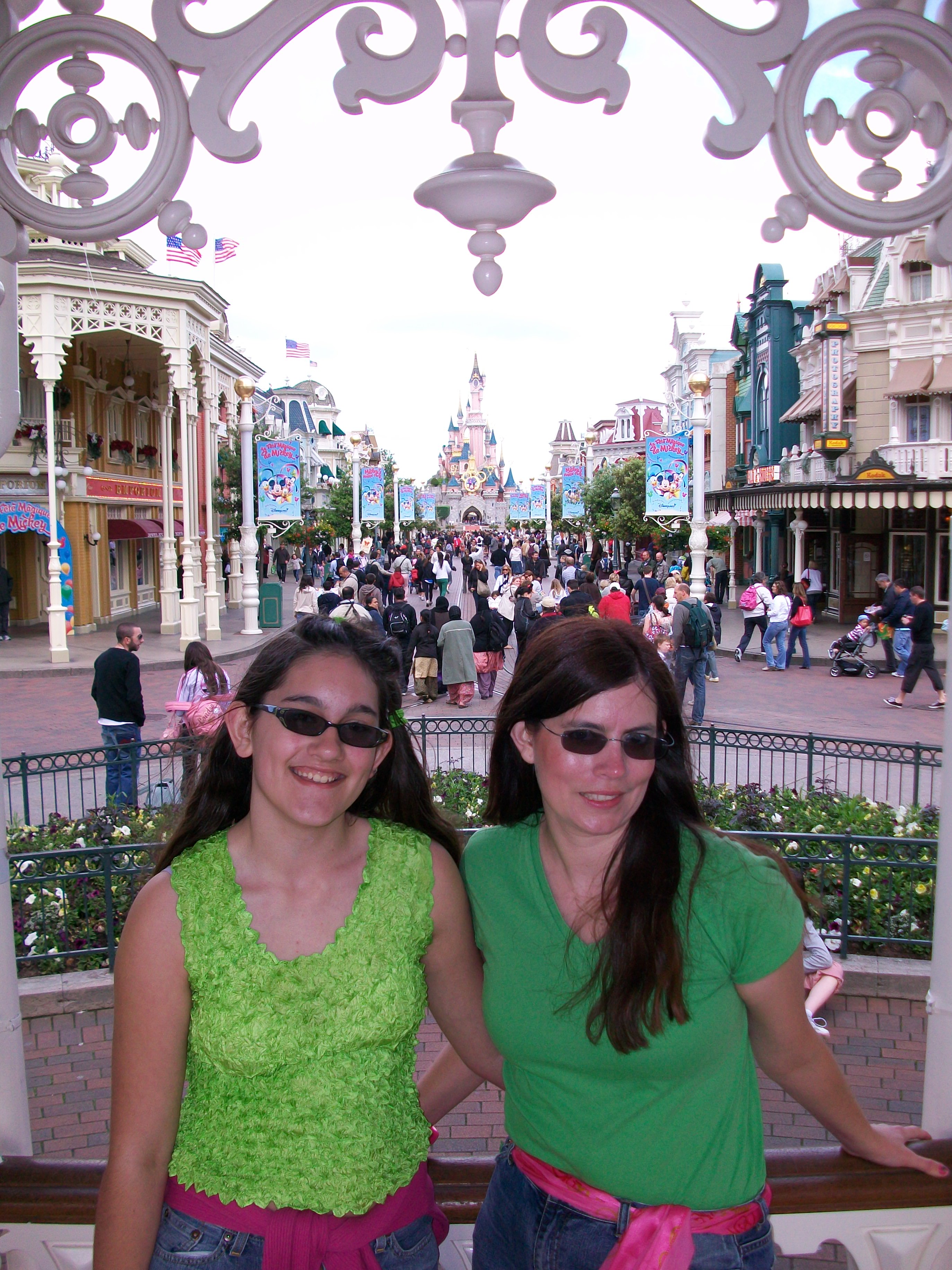 We only took a couple of photos on Main Street USA and above is the best we have to give you an idea of how it looks. It was the typical Disney Main Street but with more variety and detail in all the side alleys. Another nice feature is that behind the shops on either side is a wide indoor arcade (walkway). These arcades are lined with photos from World's Fairs and the building of the Statue of Liberty. They provide an easy way up and down the street out of the crowds and the weather and contain some of the cleanest (or least dirty?) restrooms in the parks.
| | |
| --- | --- |
| At the top of Main Street is, of course, the centerpiece of the park--Sleeping Beauty's Castle. Because this park is located in an area where the locals see "the real deal" on a regular basis (we can ride our bikes easily to two castles ourselves!) this castle was intentionally built very whimsically to seem more like a fairy tale and less like reality. We think they did a great job! | One thing we loved about the castle is you get to go inside and explore! It is lovely. As you go around the upper floor the story of Sleeping Beauty is told through stained glass windows, tapestries and "artifacts" (a spinning wheel, armor, etc.). |
The castle balcony affors nice views of Fantasyland. It is also an excellent place to view shows which take place around the sword in the stone. We most enjoyed the photo op it gave us!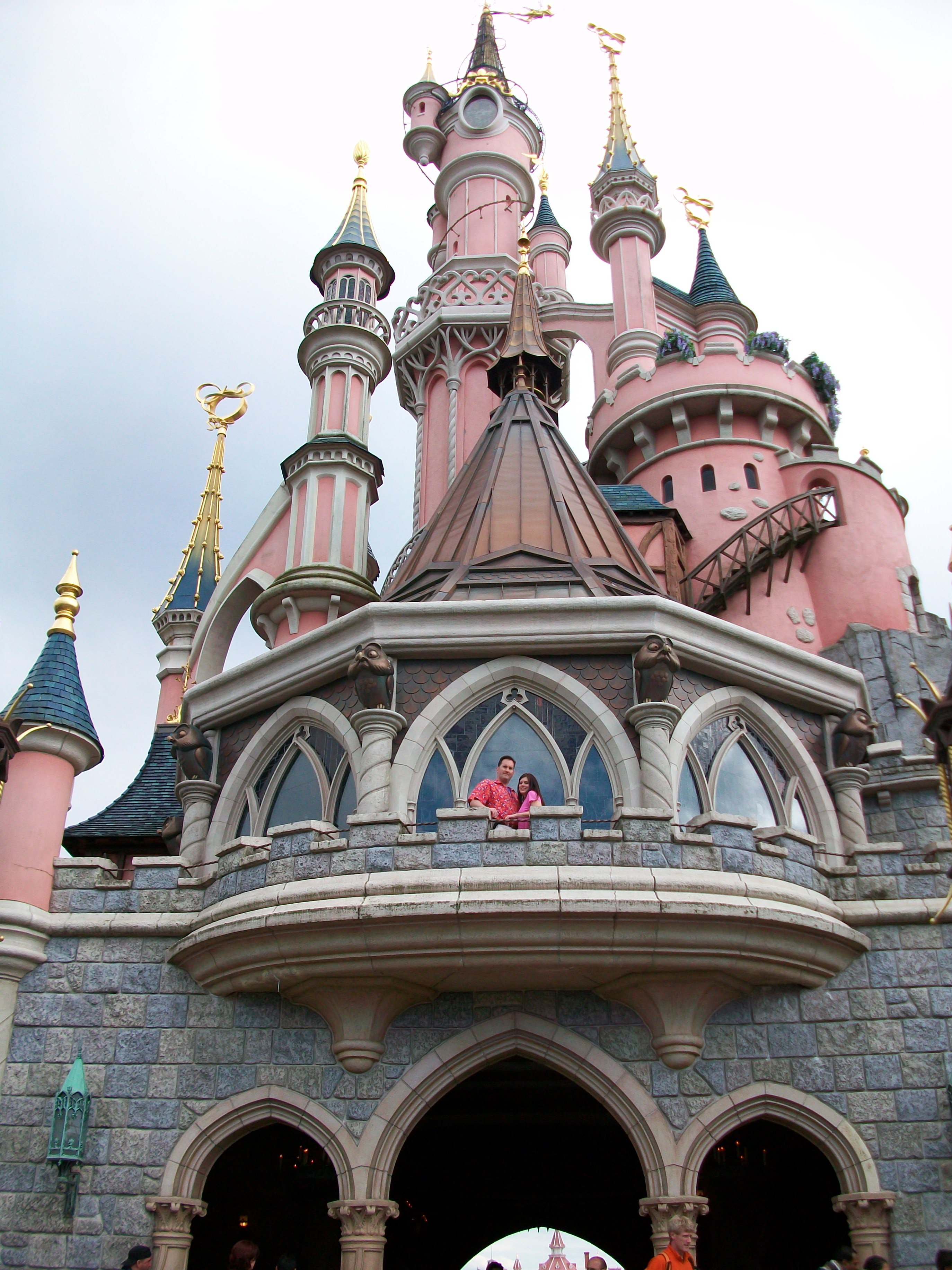 As if all of these features weren't cool enough, the castle has a dungeon complete with animitronic dragon. The dragon sleeps most of the time (with small movements throughout) but awakens and growls at tourists now and again. It is worth spending a bit of time just watching and enjoying this detail as well.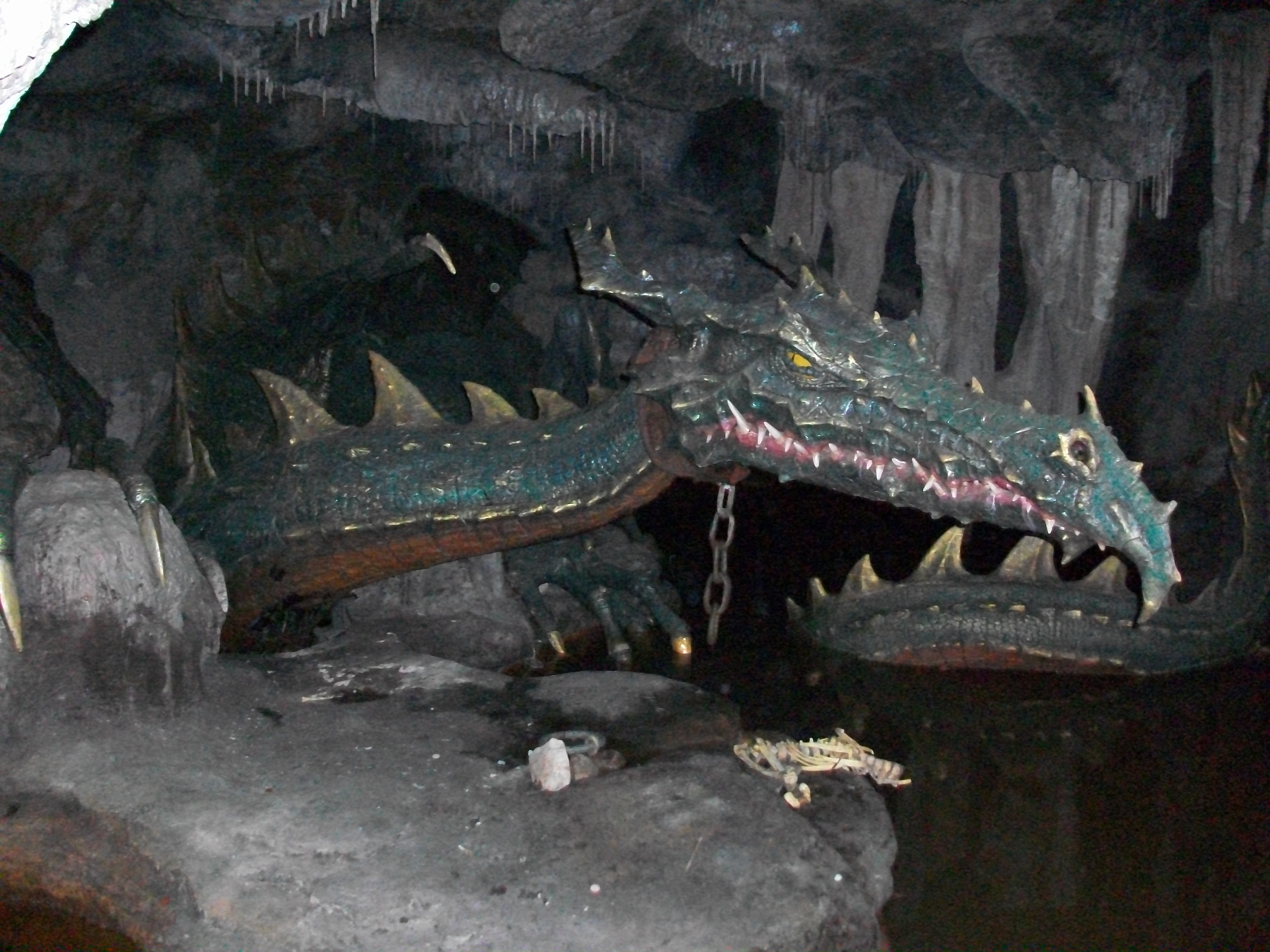 Discoveryland
Located where WDW's Magic Kingdom has Tomorrowland is the French version, called Discoveryland. The entire "land" is themed after Jules Verne's novels. Everything is in shades of copper and brass and it is just splendid. By far the most unique and interseting themed land I have seen at Disney. I thouroughly enjoyed just wandering around and soaking in the atmospehere here.
The most interesting and different attraction here was the walk through Nautilus submarine. We happened to get in just after it opened (it appears to never open when the park does--true for MANY attractions) so it was not crowded at all. This lack of crowds certainly added to our ability to see everythin and enjoy the walk through. It was very charming.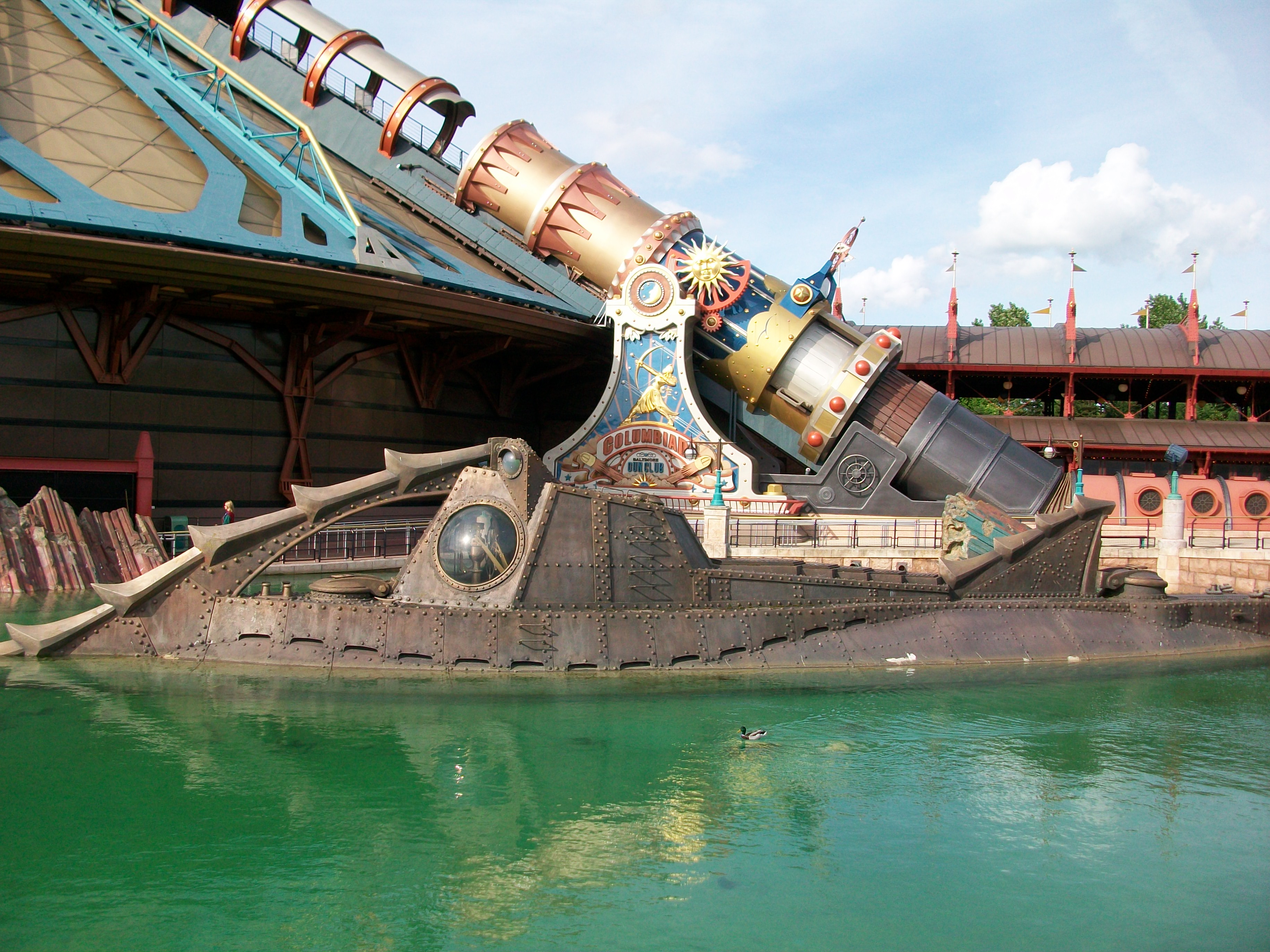 Otherwise the rides here are mostly quite similar to their U.S. counterparts. You will find: Buzz Lightyear's Laser Blast (same idea as at WDW but with the "gun" attached by a cord so you can aim better), the Orbitron (just like Astro Orbitors only not on top of a building and looking like a Jules Vernesque rocket), Star Tours (identical to in the U.S. except the robots speak French--the one human still speaks English--hmmm), Honey I Shrunk the Audience (exactly like in the USA--even in English, headphones with a French translation are available), Autotopia (same slow little cars with a long line) and Space Mountain. Space Mountain is NOT the same. Dave and I rode it and were glad we did a test run without Rio. It is Fast and has loops and barrell rolls. It also moves so fast and is kept so dark there is really no theming in the ride. You do not feel like you are in space--just on a dark coaster. I would recomend skipping it if you are short on time and want to do things which feel Disneyesque. It is lovely from the outside, though (especially when the steam comes out as each train launches)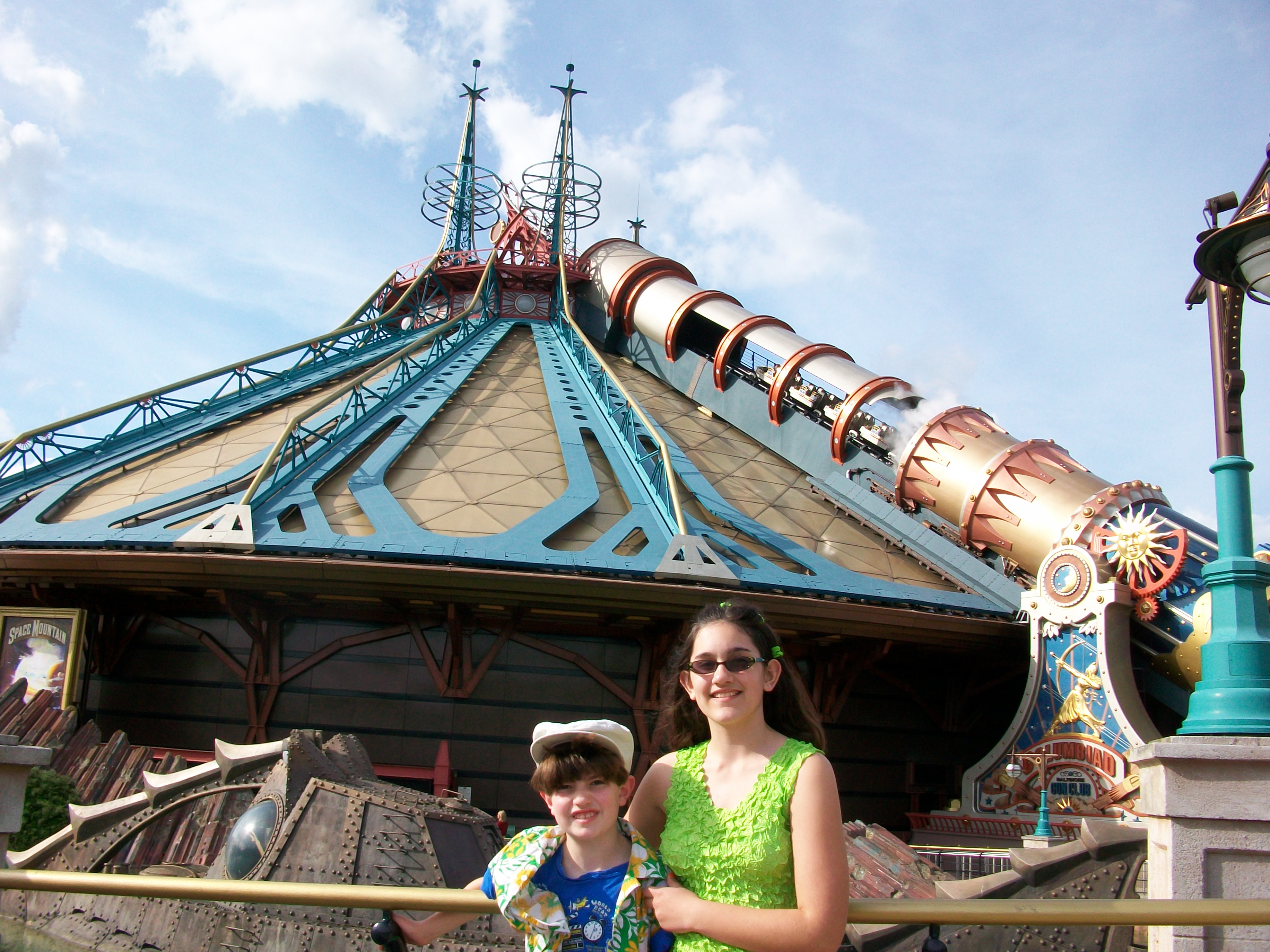 Fantasyland
The centerpiece to Fantasyland is the castle which I discussed earlier. Many rides in Fantasyland are very similar to their US coutnerparts:
Tea Cups
Carousel (this one is Lancelot's and the horses are all aromored)
Peter Pan (boats have two rows and seat up to 6)
Snow White
Dumbo
There is also a small area which was closed when we were there with Casey Jr. Train, storyboats and a small ferris wheel.
The French Small World ride is my favourite of the three I have been to. It is just as lovely as California's from the outside and has all the charm and feel of the original only bigger and better on the inside. It also has a fun little walk through of world homes with kids in the windows who are animated and speaking with each other at the end (see below).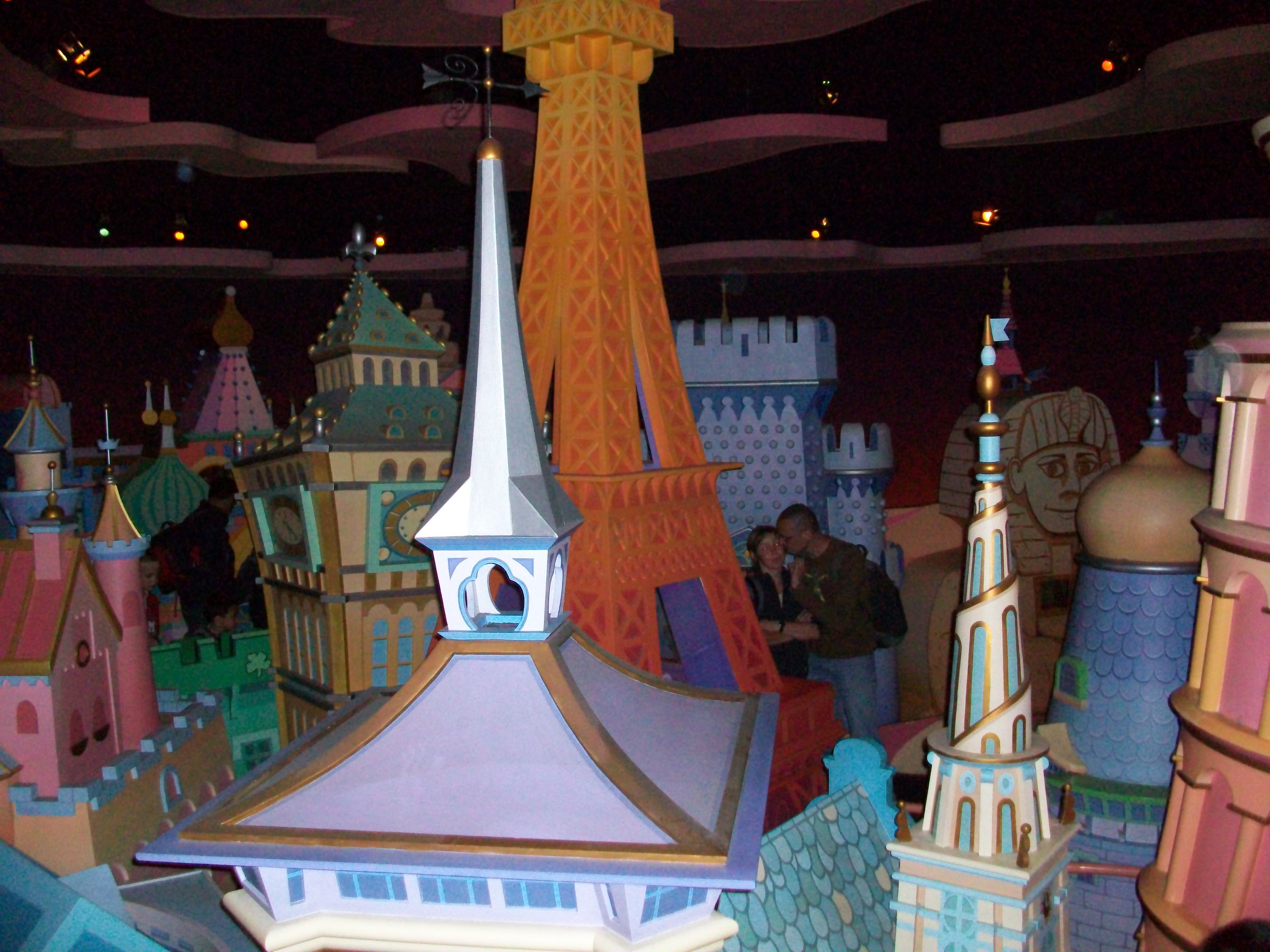 There are also two unique attractions. A Pinnochio ride, which is a classic dark ride, and Alice's Labyrinth. Alice's Labyrinth is exactly waht it sounds like--a walk through hedge maze with lots of Alice in Wonderland thememing (and eve a small "castle" to climb in and see a great view from). This was a very fun addition to the parks. Absolutely spend some time checking out this attraction if you head to DLP!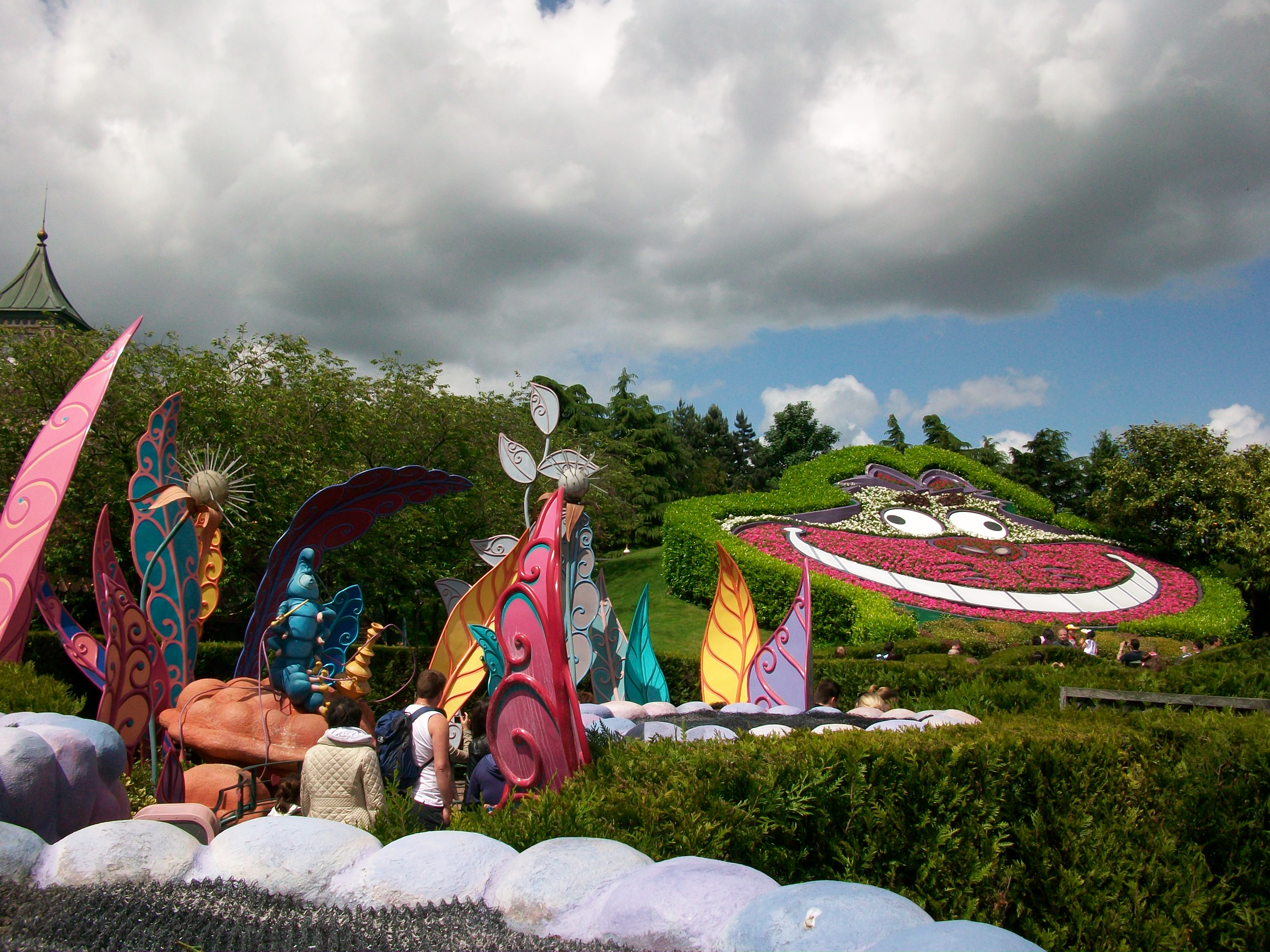 ADVENTURELAND
You enter Adventureland through a building which looks like it comes straight out of Aladdin. In fact, explore around inside the building and you will find a minor walk through attraction which sports dioramas from the film.
Here you will find the Swiss Family Robinson tree house (very much like its Floridian counterpart), the Indiana Jones Roller Coaster (nice theming in line but theming and story are almost non existent on the ride; it is also a very choppy coaster--not comfortable and not anything we care to repeat) and Pirates of the Caribbean. Pirates is yet another example of France taking a good thing and making it better. This one is aslong and detailed as California's without the distraction of added movie characters and with an excellent old fort style theme on the outside.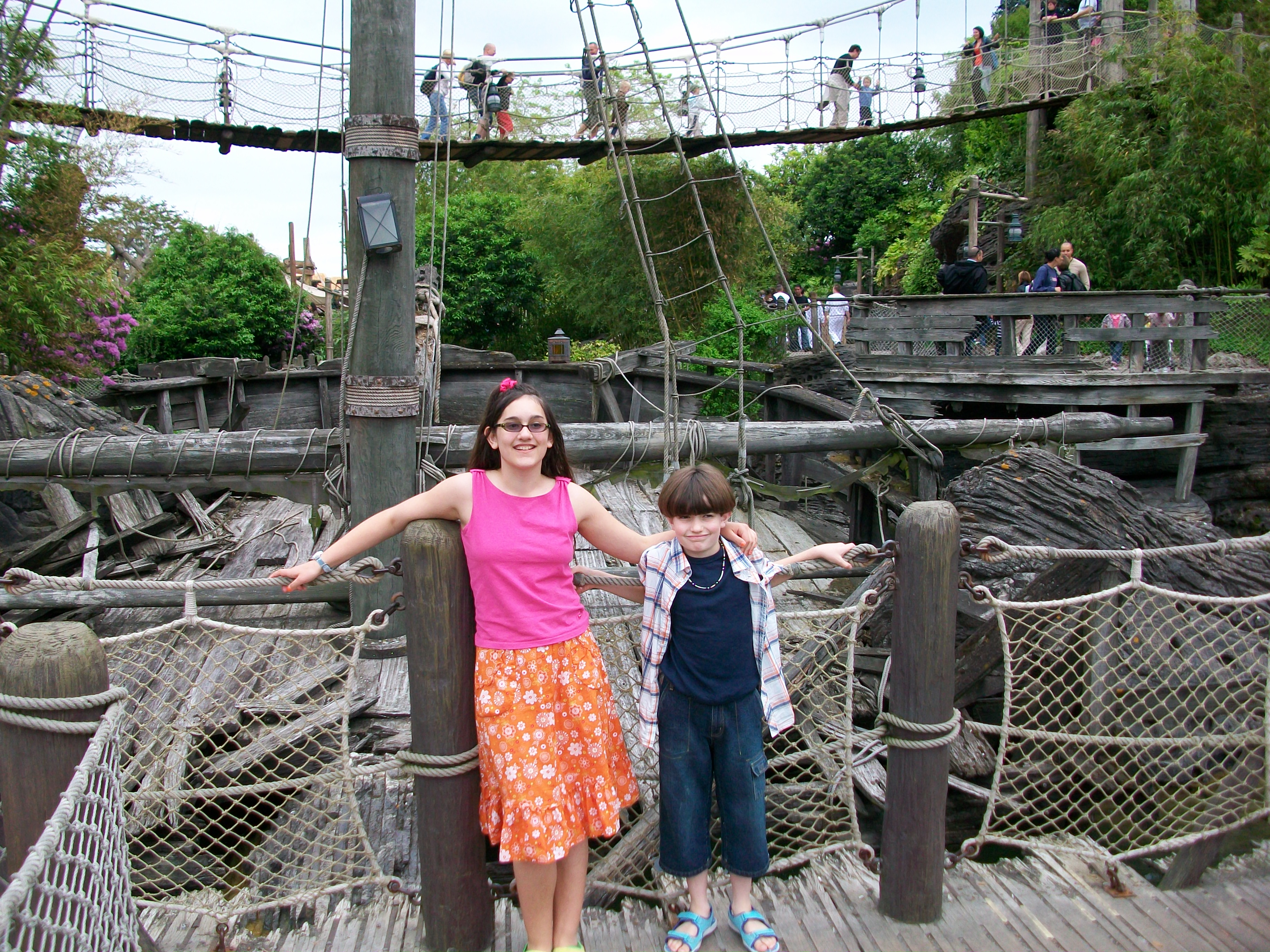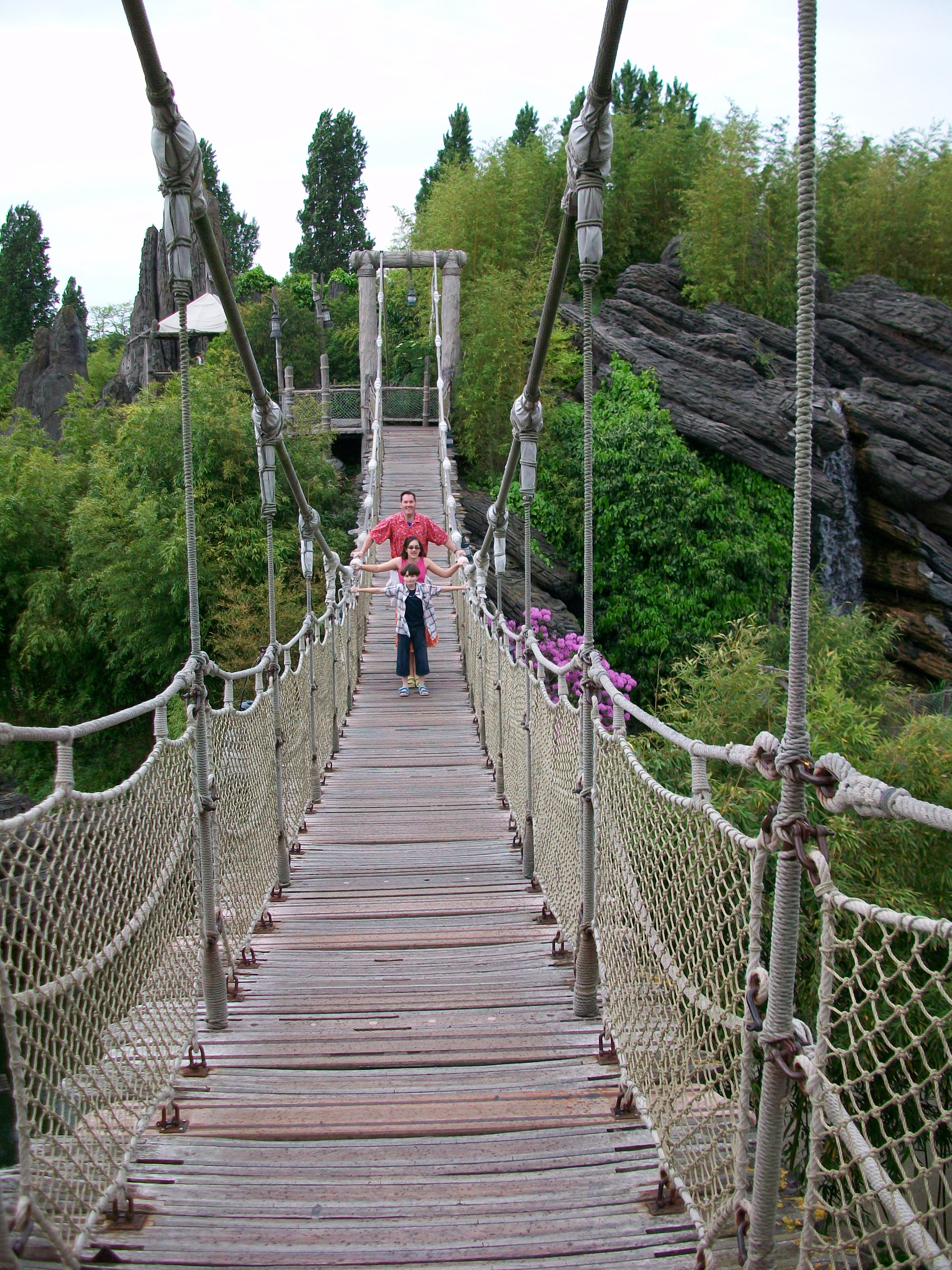 The photos above and below this text show Adventure Island, situated between Adventureland and Frontierland. Think Tom Sawyer's Island only accessible by a number of bridges (instead of waiting forever for a slow and crowded "raft") and with tunnels NOT smelling of urine. We loved that it was so easy to get to--perfect for burning off energy whenever the mood struck.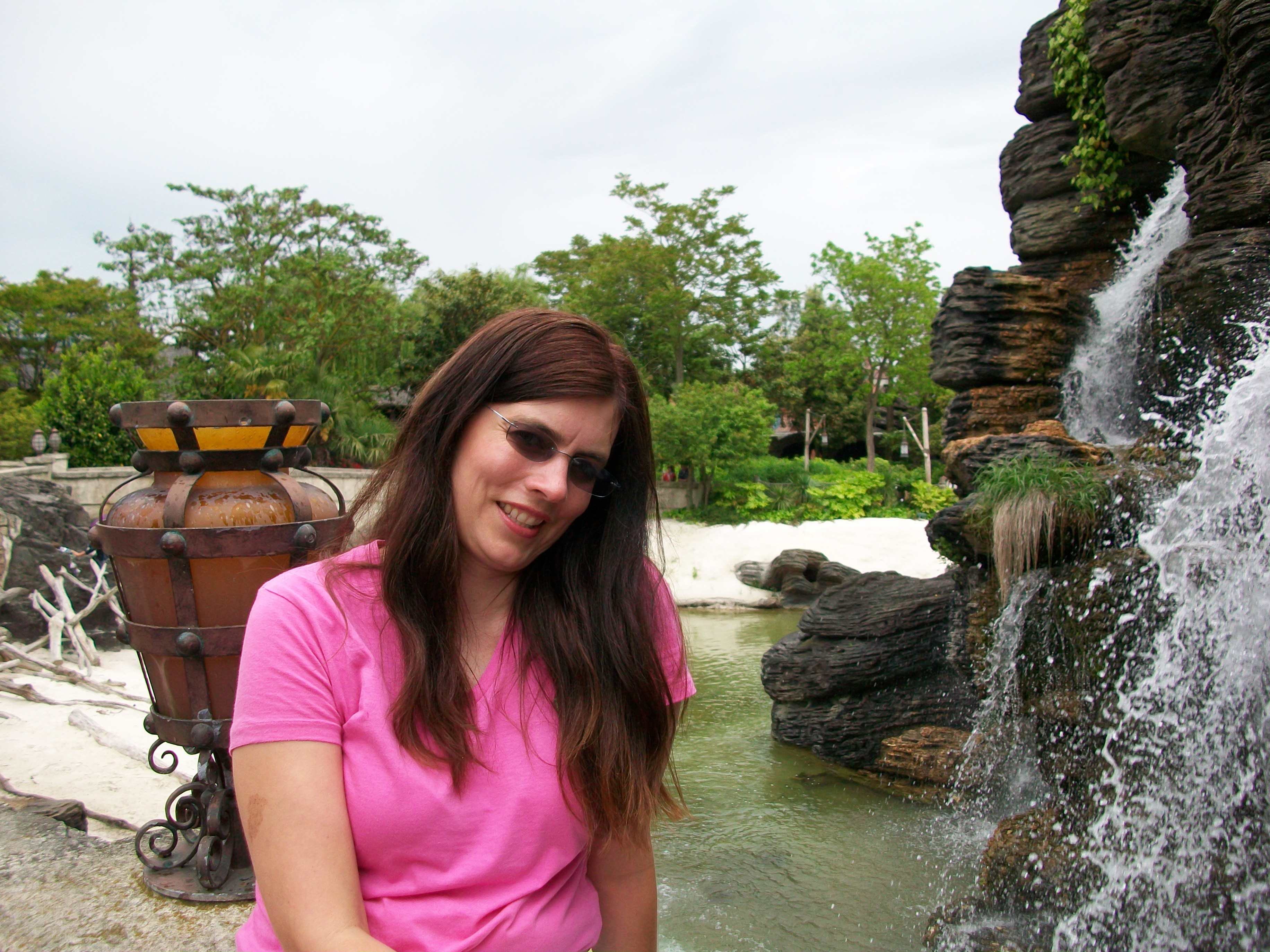 Frontierland
In keeping with the French fascination with the Wild West, Frontierland is sprawling and jsut as well themed as the other lands if not more so. The entrance to the land is through a fort. Kids of allages can climb through the fort, look through telescopes and generally have much fun playing here. Frontierland also includes a free form playground for younger children at the far end. It is filled with teepees and basic playground equiment but was aimed to young to appeal to Marika and Rio. Other minor attractions here are teh Keel boat tours (not running while we were there) and the Critter Corral petting zoo.
Above are a couple of the many scenes and details you can enjoy ONLY by taking a ride around on the steamship. We rode the Molly Brown. The Mark Twain also takes passengers. The boat ride is absolutely worth it. From the boat you will also get much better views of the two remaning attraction in this land: Phantom Manor and Big Thunder Mountain (which is on an island in the middle of the lake).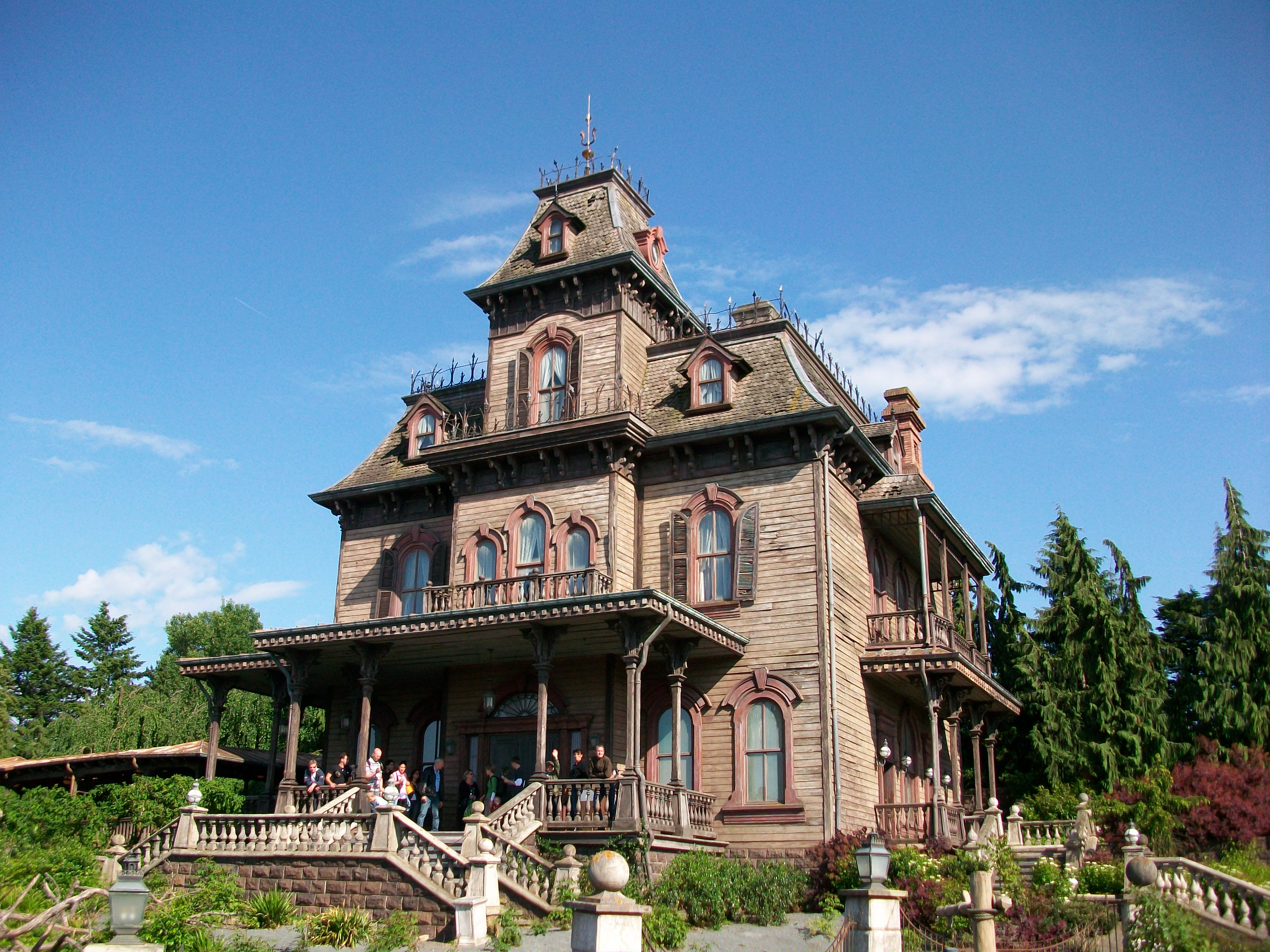 Phantom Manor is an old gold barron's mansion. The entire ride has a jilted bride storyline and is set in the Old West. I think it is as good as the others, though I prefer the U.S. version for no real reason! Do take time to explore the family burial plot upon exiting--can you hear the "undead" banging to get out of his tomb?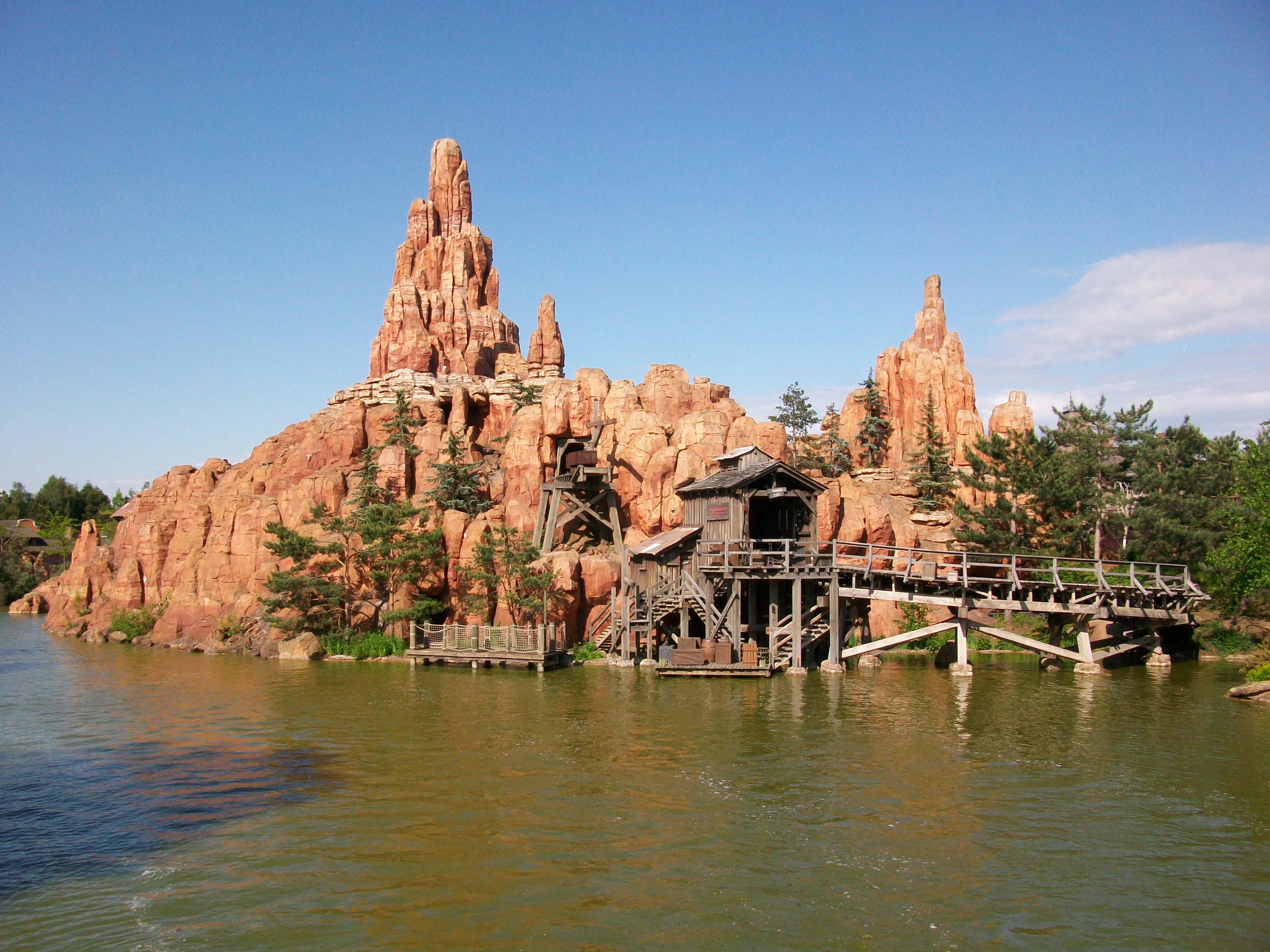 Paris' Big Thunder Mountain is once again an improvement on a classic. The Mountain sits in the middle of a lake as its own island. To get to the island the coaster plunges into a dark underwater tunnel. It is a blast flying through the tunnel. Once on the island the ride is similar in theme and structure to its US counterparts, but much longer and with fabulous views. This ride was worth repeating--many times!
A Few Final Thoughts
While not worth a trip in and of iteslf, Disneyland Paris is a very worthwhile side trip when visiting Europe if you are a fan of Disney Parks. The PROS are:
excellent theming and attention to detail
"different" attractions and improved classics
The CONS are:
bad food with high prices
VERY inefficeint (so NOT typical Disney)
Lack of disctinction between "on stage" and "off stage" (many cast memebers on break or leaving for hte day will walk around IN the park, still in costume while smoking, talking on their cell phones, etc.--disconcerting)
Smoking by cast members and guests pretty much anywhere outside (not fun when the smokers are all around you in line)